Wedding Band Cheshire - The Royale - Home
Welcome to The Royale's website.
We're a professional 3 piece function band, specialising in rock, pop and indie covers ranging from the 60s to present day chart hits.
Our style is unique, yet we manage to stay true to keeping our cover versions authentic and as close to the original as possible. We are fun performers and love every second of being on stage and entertaining a crowd.
Take a look at our repertoire page to see for yourselves what music we play at weddings, private parties and corporate events. Some of our favourite tracks have been recorded in the studio and are available to listen to below, or on the Media page.
Our clients have never been let down by either us or our agents at Alive Network. You can read what our previous clients had to say about our services in our Testimonials. A 100% success and enjoyment record is a record worth shouting about!
If you would like to fins out anything else about us or what we do please feel free to get in touch. You can find details on the Contact page or in the right sidebar. We do ask that before you call us please check our FAQs.
We hope to see you at your event and rock the dance floor in the near future.
- The Royale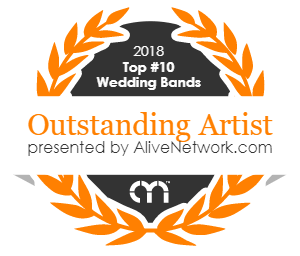 ONE OF THE BEST WEDDING BANDS FOR HIRE IN CHESHIRE
What you get:
3-piece band performing 2 x 60 minute sets of live music, ending at midnight
High quality PA system
Top quality instruments & equipment
Stage lighting
Flexible set-up and soundcheck times
Image to suit the occasion, from smart jeans & shirts to full suits & ties
Additional booking options
Acoustic + jazz options
We can also provide acoustic background music set which is perfect for a drinks reception, during dinner or to keep the party going between the wedding breakfast and evening reception. Our acoustic set is 60 minutes and the setlist can include rock and pop tunes, or jazz.
Safe, Secure Bookings
We are a member of Alive Network, the leading provider of Cheshire Wedding Bands and the largest supplier of Wedding Entertainmentin the UK. Our bookings are secured with a contract for your peace of mind and supported with 24/7 emergency cover. Our customer support team at Alive are the best in the industry and will be happy to answer any questions about the band and offer advice to help ensure things run smoothly. Once your booking in place you are very welcome to chat with us directly. We treat each event with individual care and attention to your requirements and will endeavour to accommodate any requests made.